Amer­i­can Bar
&

Restau­rant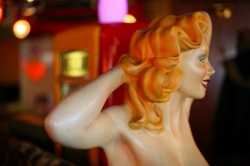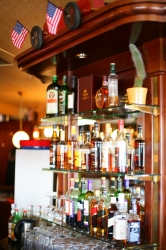 From chick­en wings, fresh sal­ads to hearty steaks and roast turkey – our Amer­i­can Bar offers a wide range of Amer­i­can and region­al cui­sine.
In addi­tion you can enjoy a cool drink or one of the many cock­tails.
Expe­ri­ence the view on the Warnow, which is right next to the bowl­ing cen­ter, with your friends in a sporty yet cozy atmos­phere. Our guest room offers plen­ty of space for your pri­vate par­ty or com­pa­ny par­ty.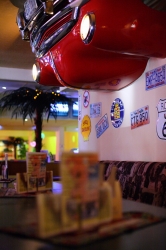 Menu (for 10 per­sons or more)
Starter

2.

Sol­jan­ka with Toast and Sour Cream (home­made)

3.

Truthah­n­würzfleisch with cheese au gratin and toast (home­made)

Sal­ads

8.

Small mixed Sal­ad

(crisp ice­berg let­tuce, toma­to, cucum­ber, pep­per and toast)

9.

Toma­to Moz­zarel­la Plate

(Toma­to and moz­zarel­la slices with bal­sam­ic sauce)

10.

Cae­sar Sal­ad

(Romana Salat with fresh­ly grat­ed Parme­san, crou­tons, roast­ed Turkey's stripes, French stick and Cae­sar dress­ing)

11.

Ken­tucky Sal­ad

(crunchy turkey's stripes on crisp ice­berg let­tuce, cucum­ber, toma­to, pep­per, egg in addi­tion to warm gar­lic or herb­baguette)

Bowl­ing Burg­er

All Burg­er can be also ordered with pota­toes wedges and Sour Cream – sur­charge: 1,00 €

12.

13.

14.

15.

16.

17.

18.

19.

20.

21.

22.

23.

24.

25.

300ter Burg­er with French fries

261.

271.

Baked Pota­toes

04.

Baked Pota­to with Sour Cream

05.

Baked Pota­to with Sour Cream and turkey's breast stripe

07.

Pota­to wedges with any dip­ping sauce of your choice

Pan dish­es

26.

Chick­en Nuggets

(with dip and coleslaw) 10 'he

26.b.

Chick­en Nuggets

(with dip and coleslaw) 15 'he

27.

27.b.

28.

Ham­burg­er shred

(fresh­ly bread­ed roast­ed pork shred, fried egg)

29.

Farmer shred

(fresh­ly bread­ed and roast­ed pork shred, cream­mush­rooms)

30.

Roast­ed turkey steak

(with toma­to, Moz­zarel­la brown, Bal­sam­i­cosauce)

31.

brown roast­ed pork

(with Würzfleisch, baked with cheese, and but­ter peas)

32.

Cut­led with lec­so

(fresh­ly bread­ed and fried pork with toma­to stew)

33.

Flori­da steak

(roast­ed turkey steak with Peach brown, side-sal­ad)

34.

New York steak

(approx­i­mate­ly 200 Gr. rump steak with green bacon beans, herb-flavoured but­ter)

35.

Strike-Plate

(fresh­ly roast­ed pork and turkey steak, grill small sausage, fried egg, French beans, herb-flavoured but­ter)

Pan dish­es: Extra

Home fries or Pota­to wedges

Baked Pota­to with Sour Cream

Kid's

36.

por­tion French fries — small

36.b.

Por­tion French fries — big

37.

"Plu­to" grilled sausage with French fries — small

37.b.

"Plu­to" grilled sausage with French fries – big

38.

"Of Dagob­ert Gold­stücke" 4 pieces Chick­en Nuggets and French fries with sweet and sour sauce

38.b.

"Of Dagob­ert Gold­stücke" 8 pieces Chick­en Nuggets and French fries with sweet and sour sauce

39.

Kid's ham­burg­er with French fries

40.

Kid's Chees­burg­er with French fries

41.

Kid's Nugget Burg­er

with French fries
(a,c,g,k,2,8)

Dessert

Warm apple strudel with vanil­la ice-cream, vanil­la sauce and cream

"Swede's sun­dae", two scoops of vanil­la ice-cream, apple­sauce, eggliqueur and cream

"Lüt­tich­er waf­fle" with pow­dered sug­ar

"Lüt­tich­er waf­fle" with one scoop of vanil­la ice cream and cream

"Lüt­tich­er waf­fle" with hot cher­ries and cream

"Lüt­tich­er waf­fle" with vanil­la ice-cream, hot cher­ries and cream
Buf­fet
Buf­fet: Starter

(for 10 per­sons or more)

V.1

Sol­jan­ka with Toast and Sour Cream (home­made)

with Lemon and Sour Cream, Toast

V.2

Buf­fet

(for 10 per­sons or more)

B.1

Crust­ed roast pork with "Thüringer Schlachtekraut"

We serve you crust­ed roast pork with "Thüringer Schlachtekraut", home­made fried pota­toes with bacon and onions, as well as three crisp sal­ads.

B.2

Crust­ed roast pork with creamed mush­rooms

We serve you a crust­ed roast pork with creamed mush­rooms and cro­quettes, as well as three crisp sal­ads.

B.3

Kas­sel­er (cut of pork)

We serve you a juicy Kas­sel­er (salt­ed and slight­ly smoked cut of pork) with sauer­kraut and pars­ley pota­toes, as well as three crisp sal­ads.

B.4

Turkey

We serve you a turkey fresh­ly pre­pared in our oven. Served with corn, car­rots, Brus­sels sprouts and cau­li­flower with Hol­landaise sauce, pota­to wedges with home­made sour cream and three col­or­ful sal­ads.

B.5

Filled rib roast

We serve you a "Meck­len­burg" rib roast with tasty red cab­bage with apples, pars­ley pota­toes and sauce, as well as three crisp sal­ads

B.8

1/2 Roast­ed duck

with Pota­to Dumplings & Red Cab­bage

B.6

Duck leg

We serve you a juicy duck leg with tasty red cab­bage with apples, pars­ley pota­toes and sauce.

B.9

Rolled suck­ling pig roast

with sliced ​​cab­bage and fried pota­toes

B.7

Stuffed pork chops

We serve you deli­cious, stuffed pork chops with tasty apple red cab­bage, pota­to dumplings and sauce

Buf­fet: Dessert

(for 10 per­sons or more)

D.1

D.2

Star-shaped cin­na­mon ice-cream

with cream/vanilla ice-cream with cin­na­mon fla­vor

D.4

"Lüt­tich­er waf­fle" with hot cher­ries and with vanil­la ice-cream

D.5

warm apple strudel

with vanil­la ice-cream and vanil­la sauce